For a limited time, purchasers of a NetAlly AirCheck™ G2 Wi-Fi Tester or LinkRunner® G2 Smart Network Tester are eligible to receive a FREE reward for each tester purchased. Choose from either a LinkSprinter® Pocket Network Tester or Test Accessory Pocket iPerf Server as your reward – either one helps you and your team get more done!
Test Accessory Pocket iPerf Server
Value $495 US MSRP (TEST-ACC)
This pocket-sized iPerf server simplifies the process of measuring throughput by providing a plug-and-play solution that allows you to quickly validate performance on any part of the network. It works with the AirCheck to test "Wi-Fi to wired" network performance or with iPerf test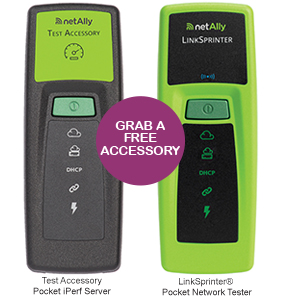 apps on the LinkRunner G2 to test wired Ethernet-to-Ethernet links.
LinkSprinter® Pocket Network Tester – Value $415 US MSRP (LSPRNTR-300)
The LinkSprinter Pocket Network Tester verifies the functionality of copper Ethernet links and identifies errors in less than 10 seconds. The tester reveals network connectivity status and port information while ensuring documentation for every link. Perfect for frontline staff or anyone who needs to quickly verify network drops.
All you have to do is to fill out our online form, indicate which free tester you want, and upload your proof of purchase, and we will send you your free tool*. That's it!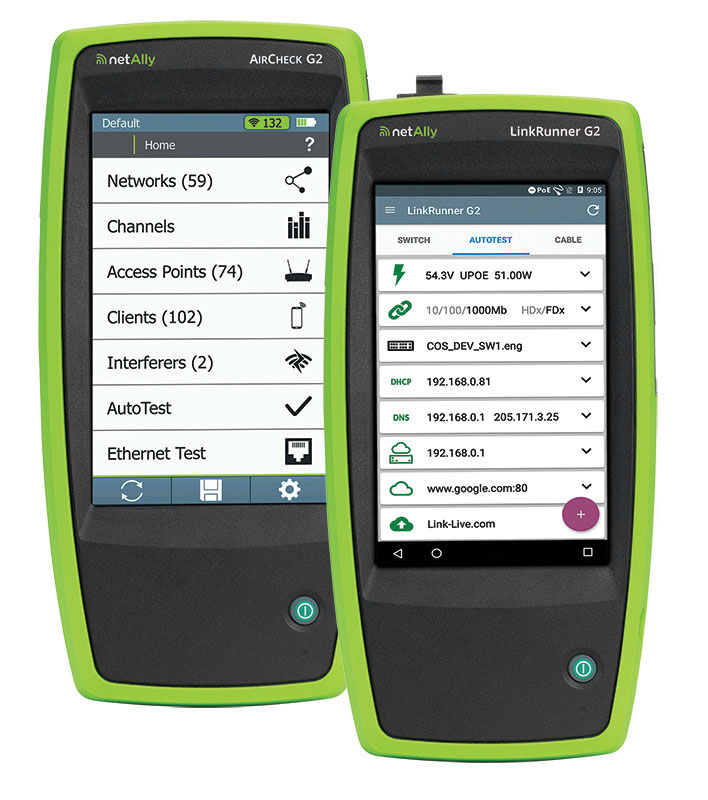 Get Your AllyRewards
Purchase a qualifying model* of AirCheck G2 or LinkRunner G2
Fill out the following form including your contact, shipping, serial number, and purchase information. Fields marked * are required.
Select your Reward!
Upload your proof of purchase below (reseller invoice or purchase order)
*For each valid purchase of a new NetAlly LinkRunner G2 or AirCheck G2 tester from a NetAlly authorized reseller made between April 6th, 2020 and midnight September 30th, 2020 (MDT), participants will be eligible to receive a free NetAlly Test Accessory or LinkSprinter device. Please allow eight (8) to twelve (12) weeks for delivery. Standard warranties apply. This offer is only valid in certain countries. For further details and information on how to submit a claim under this promotion please go to www.netally.com/allyrewards-terms-and-conditions. NetAlly reserves the right to withdraw this promotion at any time and/or to unilaterally change the terms and conditions, without incurring any liability, whatsoever. Employees, contractors, of NetAlly and NetAlly's resellers, distributors, value added resellers, or other similar channel sales providers are not eligible to participate. Void where prohibited. NetAlly, and NetAlly's logos are trademarks or registered trademarks of LinkRunner, LLC d/b/a NetAlly, respectively. All other trademarks are the property of their respective owners. Copyright © 2020 LinkRunner, LLC d/b/a NetAlly. All Rights Reserved.
Additional terms and conditions apply, click here for details: