FREE APPLICATION NOTE DOWNLOAD
Site Security Audit Solutions
Perhaps the fastest growing and most diverse part of the network is at the edge. Compared with more controlled and limited aggregation points such as the WAN, the edge is where the sprawl is – a plethora of devices ranging from regular laptops to legacy devices with older authentication schemes, to BYOD devices and most recently, the rapidly growing number of IoT devices. Access is also complicated by segmentation needs leveraging VLANs/SSIDs and authentication based on user roles, devices, organization, or to provide an overlay network for VoIP, surveillance, or operation technologies.
While many security tools exist, they tend to be focused on fixed installation infrastructure monitoring rather than mobile – at the point of presence, the site. That is where NetAlly comes in.
Download our free application note and learn how the combination of a deployed analyzers (such as the EtherScope® nXG) and the secure Link-Live™ Cloud Service for data storage and collaboration, create a potent combination for performing site security audits, revealing proper – or improper – provisioning, knowing who/what is on your network and where they are located, as well as identifying vulnerabilities in network security.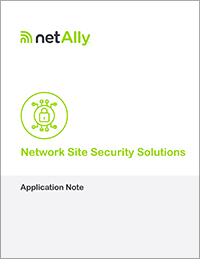 Sign up below for your free download!