Built on history, expertise, and innovation.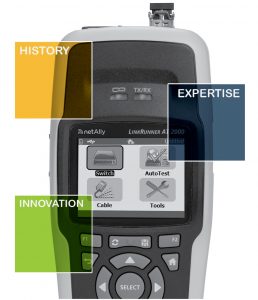 For over 20 years LinkRunner® has been a trusted name in network testing. Thousands of network professionals have chosen LinkRunner as the best tool for fast and complete copper and fiber Ethernet network connectivity testing. Every LinkRunner model performs an essential set of automated network tests, providing quick and accurate visibility to solve network connectivity problems.
LinkRunner enables network professionals of varying skill levels to confidently install, validate, and troubleshoot access networks and the devices that connect to them. Learn more below.
Built on a history of expertise and innovation, the tools they have trusted for years have a new home at NetAlly, since 2019. 
Built on History
Test & Validate
Copper & Fiber Ethernet in Less than 10 Seconds

• Discover nearest switch name and port info​
 
• ​Verify link speed / duplex and connectivity to network devices with AutoTest​
 
• AutoTest verifies and documents PoE, DHCP (network addressing), gateway service and much more​
 
• Test results are automatically uploaded to the Link-Live collaboration, reporting, and analysis platform
Simplify Network Validation
& Configuration
• Single, rugged unit streamlines workflows by combining key installation and triage functions​
 
• Intuitive design runs Android-based apps, includes smartphone-like features – including a camera, flashlight, microphone and speakers​
 
• Helps improve efficiency and effectiveness of network operators by accelerating network deployment and problem identification
Cost-Effective, Line-Rate 10Gig Ethernet Testing
• Quickly test, verify, and troubleshoot 1Gig, Multi-Gig and 10Gig Ethernet (copper, fiber)​
 
• Perform line-rate performance testing and packet capture​
 
• Layer 1 – 7 AutoTest enables any technician to find network problems ​
 
• Monitor networks for intermittent issues, every minute for up to 24 hours​
 
• AllyCare enables in-depth network discovery features and web remote control​
the right tool for the right job
Fast problem isolation video series