Remote Troubleshooting for Today's Environment
During this pandemic, with so many users working remotely, many challenges of remote site troubleshooting arise, such as:
• Lack of expertise at the remote offices results in senior IT personnel traveling to troubleshoot the problem
• Not having the appropriate resources in place to solve the problem locally extends problem resolution times and incurs additional costs through downtime and staff travel
• Lack of standardized test parameters and documentation makes problem triage more difficult and time-consuming to ultimately resolve
If you can relate, download our Remote Troubleshooting white paper. It will discuss strategies that your organization can consider when looking for ways to help the on-site network technician become more capable of identifying and resolving problems on their own.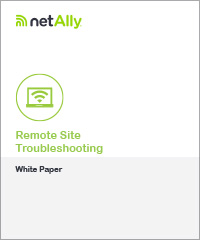 Click here to watch our new Remote Troubleshooting webinar series.