FREE WHITE PAPER DOWNLOAD
Frame Level Testing: Going Beyond Cable Certification to Assure Data Integrity
As organizations grapple with ever-increasing amounts of data and evolving network speeds, ensuring that a network's physical cable plant can support the necessary bandwidth in accordance with specifications and without errors is paramount.
NetAlly has upgraded the EtherScope® nXG Portable Network Expert analyzer and LinkRunner® 10G Advanced Ethernet Tester software to include the LANBERT™ media qualification app. This app provides a flexible, easy way to validate the quality of "dark media" and media components, such as SFPs, wall and patch panels, and patch cables. With 24-hour testing and the ability to drill down to 1-second granularity on errors, NetAlly offers a superior solution with in-depth visibility that other solutions do not provide.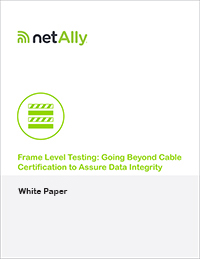 Sign up below for your free download!